This fresh series of free horror samples create a state of fear and stupefaction in varying degrees. Available in WAV and MP3 format. You can also download some tracks of this collection in 5.1 Surround format.
Tags: mystery background music,  horror background music
| | | | |
| --- | --- | --- | --- |
| | |      Monsters are here (Free) | 2.28 |
| | |      Savage law (Free) | 1.54 |
| | |      In readiness |  2.48 |
| | |      Inevitability |  2.24 |
| | |      Zombies on the way (Free) | 1.53 |
| | |      Episode 3 (Free) | 2:10 |
| | |      Ensnare |  2.22 |
| | |      Lust after power (Free) | 2.13 |
| | |      No fate |  2.30 |
| | |      Creeping death |  2.34 |
| | |      Z-antidote (Free) | 2.10 |
| | |      Nightmare |  2.20 |
| | |      Darkness surrounds |  2.24 |
| | |      Cosmo joker (Free) | 1.35 |
| | |      Death beckons |  2.24 |
| | |      Darkness awakening |  3.12 |
Explore the full background music catalog.
Need exclusive music for your project? Send an inquiry.
DESCRIPTIONS OF TRACKS: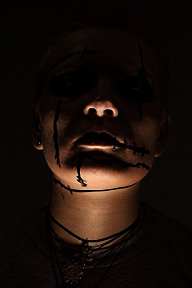 Monsters are here – Dark and somber walking of unknown creatures with creepy of violins are complemented by mystery sounds effects. All this is eerie and makes one want to close with a blanket over his head and to be trembling.
Savage Law – rhythmic music track, typically cinematic style. Broken bits of electronic phrases, tremolo violin in the background, and a strong bass line as a base.
In readiness. This background horror track is saturated with events, including both the traditional elements of impact and the surreal voice of extraterrestrial aliens or animals. The environment does not allow relaxing for a moment, surrounding with different unpleasant surprises.
Inevitability. There are some tragic notes that are the first part of this background track, giving the inevitability and hopelessness of subsequent events. Aggressive fight in an episode of 1.1 – 1.28 min. is the culmination of the track.
Zombies are on the way.  Anxious growing tremolo in the first seconds creates the expectation of events that should start soon. Tensions gradually increased towards the end, exciting the nerves.
Episode 3 – slow ambient track, full panoramic electronic effects, and fantastic unreal sounds. Ideal for creating a mystical atmosphere.
Ensnare. The environment herself trying to envelop with darkness and absorb here. At the same time, the acute and hissing sounds periodically pierce the space, giving brightness and saturation to the whole of the picture. In the final part, the wind waves carry all horror away to the darkness.
Lust after power Absolutely energetic track in the electronic style with a steady rhythm and synthetic sound effects as the background. Starting synchronized with the end of the track and can be used as a hinge.
No fate. Pounding beats like heartbeat continued throughout the tracks as the harbingers of a threat that is still far away, but her approach is already evident.
Z-antidote. Spacey, and disturbing electronic music track. It has a lot of vibration, distortion, and echos, which make a sense of unreality and anxiety. Acceptable for the scoring of war episodes, sports, martial arts. Looped.
Creeping death. In this track, the threat has a vicious and at the same time treacherous character, similar to the venomous snake, whiling away quietly creeping into the safe zone to sting at the most unexpected moment.
Nightmare. Nightmares and ghosts appearing in delirium serious illness depress consciousness and cause a state of panic and despair. The sticky wave of fear moves one after another, and it is really impossible to conceal one from them.
Darkness surrounds. Soft and thick darkness creeps cautiously from every quarter throwing out their poisonous spines. It makes you feeling fear and at the same time fascinating because no one knows what is on the other side of darkness.
Cosmo joker. Psychedelic elements are present here in large numbers. Modern instruments alternate with the phase modulation, making a sense of mind imbalance of this cyclical track. Great for the scoring of fantasy, action, horror video material.
Death beckons. This horror background music track is neutral and perhaps more mystical than awful. It tightens into the funnel, and there is no power to escape from it. Death beckons and whispers.
Darknessawakening. Sleeping black energy trying to escape from the fetters of sleep, but it occasionally falls into a trance. Wave rolls and back down again to return next time.