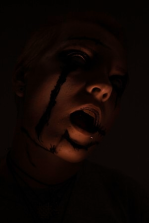 This is an OLD post. Now all horror background music tracks available here.
This small, horror sound collection can be used as free background music for video, to create and reinforce the desired impact to the viewer.
By creating these sounds, I have used string instruments only. These simple sound samples can be seamlessly fit into any sound picture without using of frequency correction. In addition, each audio sample can be customized and developed. The most likely area of application of these free audio samples is background music for video horror or thriller type, for creating several types of moods such as anxiety, worry, fear, fearfulness, confusion, fantastic, bizarre, bated breath.