Sad and tragic piano music Spotify playlist for online streaming. 


To make embed it in any website, copy this code: <iframe src="https://embed.spotify.com/?uri=spotify:user:romat143:playlist:1fwF1Sz2Oe4G0tifTrMyw2″ width="300″ height="380″ frameborder="0″><span data-mce-type="bookmark" style="display: inline-block; width: 0px; overflow: hidden; line-height: 0;" class="mce_SELRES_start"></span></iframe></span>

This collection contains sad and sorrows piano compositions most in classical style. The material gathered from different albums namely: "Ritual", "Phantasy Over a Cup of Coffee", "Cannot Be Found" and "Horizon". The playlist also contains the music of other composers.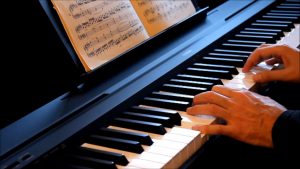 The listening time for this list is more than an hour. Feel free to share the playlist with your friends, embed the code on the page of your website, or post on social networks. To keep updated on recently added songs, follow the playlist by subscribing to it.
Today on my site you can also find other Spotify playlists containing songs from my library. To listen to music online you need to install free Spotify software available for computers and mobile devices such as PC, Macbook, iPhone, and Android devices. By using this software you also can your favorite song to personal track-list.
Song list:
Feeling so Empty. This is the saddest song like a soundtrack from the Horizon album. Its characteristic features are tragic chords and a leisurely melody.
On the Way. This instrumental composition, like a song about love, fills the listener with positive feelings. The piano plays freshly and playfully, while the violins and cello add tragic notes to the track.
With Eyes Closed. The instrumental theme of this song is dreamy and airy, which is emphasized by the neat melodic phrases of the piano in the upper case.
Charming Life. The emotional component is a hallmark of this composition. The positive character typical of the chill-out genre is emphasized by neat pizzicato violins against a soft main theme.
You will Leave It Here. The tone of this music is sad and somewhere depressing. The piano sounds dynamic here as if reflecting an unknown tragedy and sadness.
 Doomed to Immortality. A slow, uncomplicated melody sounds soft and soothing. The violins in the middle and final part of the song fill it with depth and make the timbre more saturated.
Sun After Rain. The neat and elegant tune of this song creates a happy mood, tuning the listener in a positive way.
Glazed Universe. The opening chords of the piano sound very soft. The subsequent introduction of the cello and violins makes the original composition very dramatic. The solo guitar in the final part enhances the dynamics.
Forgotten Dream. The moment the violins enter in the first minute of the song is the point where the listeners' consciousness begins to fill with a sense of grief. This mood does not leave one throughout the composition.
Still Here. This heart-breaking track is written in the style of 90s rock ballads. An exciting theme and a piercing electric guitar, are combined with a classical piano, violins, and cello.
Shadows Within Us. This inspirational song is created in a mixed piano style. A repeating arpeggio is opposed by a dynamically changing melody.
One Hour Before. The melody of this song is one of those that allows you to experience the drama in full. The track was written for solo piano and a small violin orchestra.
Broken Heart. A suffering soul and unrequited love are what come to mind when listening to this song. The piano plays here mainly in the upper case.
The Spirit of Mine. Soft piano phrases here are confronted by a bright and rich cello, as well as dynamic and emotional violins.
Make Me Believe. This thing can best be described as a farewell song. As if a very disappointed girl says goodbye to her now ex-boyfriend.
September. A romantic track was written under the influence of a positive mood, during a vacation on the sea coast in early autumn.
Someone Should Do. A tragic and sad composition sounds like a requiem. In order to best hear soft and subtle violin notes in the background – it is recommended to listen to the track in the headphones.
Cannot Be Found. This instrumental track without lyrics is perhaps the saddest song you've ever heard. At the same time, due to the expressive melody, it is very emotional.
Loneliness. A soft and unhurried melody is ideal to indulge in memories of a romance or to remember unrequited love that broke a heart.
Revival. The cello plays soft and gentle here, following unhurried piano chords. Perhaps you will cry after listening to this.
The Island of Placidity. A dreamy mood will certainly arise if you spend a few minutes to listen to this track. This is a good way to get a little positive energy.
Still Here, Piano Solo. This mournful composition can be described as a song of life. Gloomy and tragic notes here are combined with optimism and faith in a happy future.
Dancing Breeze. This track is a great way to relax and give yourself pleasant memories of a trip to the sea or other pleasant places.
Mirror and Sunlight. This classic piano composition combines a gamut of experiences from mild sadness to playfulness and enthusiastic admiration.
I Need to Tell. If you are looking for the saddest mood, this song will give it to you. Piercing high piano notes penetrate the soul.
If Only. Listening to this musical story, imagine yourself as a little girl who ended up in a magical land filled with elves and other magical creatures. She walks through the fairy forest and admires.
Nostalgia. The name of this track speaks for itself. The song is filled with a sense of nostalgia. I specifically muffled the sound of the piano so that it looked old.
Before You Come. Despite the fact that this song is the last on the list, I consider it one of my best. Perhaps because the depressive state is not alien to me.