Just some of the professional musicians have perfect pitch. There is around ten percent of such musicians in European orchestras. And among the common people, only one from every ten thousand has absolute pitch.
It is believed that early contact children with music increase ability to accurately identify the pitch. In this case, the skill to recall a melody is formed by the three or four years. People with absolute pitch, often unconsciously analyze background noise, which the average person does not notice, or at least does not give them much importance.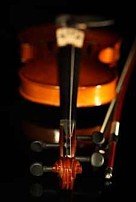 The perfect ear helps to accurately control the sound of fretless instruments like as violin or cello. At the same time, some musicians with a perfect ear, have problems when they have to play in an orchestra or band, where the tuning of musical instruments slightly shifted. The brain, accustomed to harmonious scale, that clearly tied to specific sound frequencies, perceived shifting as a false, delivering discomfort to the musician who has a perfect ear. At the same time, the musician, who has absolute pitch, can easily determine the frequency of sound of electric drill or doorbell, although the practical value of this ability is minimal.
In general, for musicians, more important is the ability to the accurate intonation of intervals of sounds in the head, regardless of tuning of musical instruments. This ability organizes musical memory and helps to remember complex melodies and recall them when needed.