Why they compose music?
The first composers lived eight hundred years ago. During eight centuries music was composing. And today each moment some composers are writing music in a lot of points on Earth. But why do they do it? What motivation to composing music these people have? A little thought we can see the following motives: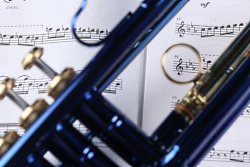 Money.
Composing of music can be profitable? Yes, but only at special cases. For example: if a composer works for a film company and writes music for movies he can get good money. For example, Dmitry Shostakovich and Georgy Sviridoff have made music for a lot of films.



If some firm makes advertisement video this firm may order composing music from a composer, and he will get good honorary. Some people have an opinion that music what made to order cant be good. It isn't true. A lot of great composers, such as Joseph Haydn, Wolfgang Amadeus Mozart, Ludwig van Beethoven, Igor Stravinsky, made music of genius to order. Writing of popular songs also may be profitable.
Self-expression.
Some composers write music because they feel a necessity to express their soul and mind in musical language. These people get psychological satisfaction from composing.
Boredom.
If a person is able to write music, and he has nothing to make, he will write music perhaps. So, he will rid himself of boredom and perhaps will write something interesting.
The desire for fame.
Making of music isn't art but is sport also for some people. They want to become famous for this activity. They want to be best among their competitors. Some of them try to contribute to the musical culture. If their music is enough originally and aesthetic, the culture will remember it.
The desire to leave reality for some time.
Music is a world. This world has own laws, own regularity and owns dimension. Sometime in musical world is better than in real world. We can enter the musical world by listening music, interpreting music and composing music. The last variant is very deep.
Talent.
It's well if desires correspond to abilities. But this is not always. A lot of people have the talent to write music but haven't desire to do it. Some of these people do not compose music; others begin study in musical schools and academies. They do it just because they can.
Habit.
If a person is regularly occupied with something this occupation became a habit. For a lot of people composing are a hobby and a habit. If they stop write music they feel dissatisfaction.
It's possible that other motivations for writing music exist. But I think that quality of a composition does not depend on the reason for which it was written. A great musical work may be written by habit; a music of genius may be written for leaving reality; a real schlager may be composed for getting fame; boredom is an excellent condition to making very original music; you may unexpectedly compose a good music if you write music by habit or only because you have talent.
So it isn't correct to make the conclusion about a musical work by cause and conditions of its writing.