Tags: Background music, Slow piano background music
| | | | |
| --- | --- | --- | --- |
| | | Doomed to immortality (Free) | 5.10 |
| | | Loneliness (Free) | 3.44 |
| | | Behind your dream     NEW! | 4.20 |
| | | Make me believe (Free) | 3.22 |
| | | Mirror and sunlight | 2.03 |
| | | One hour before (Free) | 3.35 |
| | | Charming life (Free) | 3.21 |
| | | If only | 3.04 |
| | | Glazed Universe (Free) | 4.13 |
| | | September (Free) | 4.13 |
| | | Dancing breeze (Free) | 2.47 |
| | | Moon echo | 3.12 |
| | | Dying world | 2.03 |
Explore full background music catalog.
Need exclusive music for your project? Send an inquiry.
Exclusive track written specifically for your project according to your requirements, will not be used anywhere else. You will gain the copyright in it. You can specify the desired tempo, detailed structure, musical instruments to be used, the mood …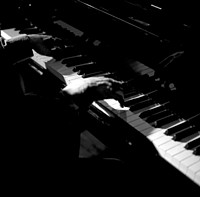 "Doomed to immortality" is a song with a stable rhythm and little tragic piano melody. In the second half arrangement complemented by violins. Suitable for both video of neutral type, and dramatic films.
"Loneliness" is sad down-tempo piano track with simple chord structure. The music filled with various performing nuances. Leisurely arpeggios and memorable melody is easy to perceive any type of audience.
"Behind your dream" is dynamic piano track with bright tragic melody. It is quite suitable for using as background music for documentary, or any social projects. In other side, fragments, having different tempo, can be used individually.
"Make me believe ". This simple and catchy piano melody flows like a mountain stream. The live record is full of humanity and sensitivity for maximum impact to the listeners. The song create calm and even little sad mood.
"Mirror and sunlight ". Dynamic and soft melody of this song is easy to listen, optimistic and playful. The instrumental piano background track rich with light, sun and able to bring enthusiasm to the listener.
One hour before. Slow sad and tragic song with a soothing melody of piano and violins in the background. Contains some of uplifting moments, but generally relaxed, and wistful.
"Charmin life" – light and elegant background music track has bright piano melody creating very positive and romantic feeling. This beautiful song is optimal for romantic film or documentary.
"If only"– positive and playful piano background music, suitable for animation, or corporate Power Point presentation. The down tempo composition is airy and lite and can increase sentimental and playful mood. A special feature is the periodic change of tempo.
"Glazed Universe". The music in minor key is similar to traditional pop ballad. Nevertheless, it can be successfully used as a cinematic soundscape. Composition contents low register cellos, violins and very distorted guitar.
"September"– peaceful and unobtrusive piano background track, optimal for creating nostalgic and sad mood. The song is easy listening and have some tempo variation, that make the sound enliven and more susceptible to the human ear.
"Dancing breeze" is sentimental light and positive royalty free piano track, creating of feeling of airiness and lightness. This is great for romantic video and documentary.
"Moon echo"– quiet and smoothly flowing violin melody echoes the gentle sound of a piano. Track suitable for both: films that contents tragic elements and melodrama.
"Dying world". The down-tempo background music track brings feelings of remorse and regret. Very calm and quiet beginning develops into a crescendo to the end. Several disturbing piano notes in the ending form a sense of impending tragedy and some tension. The song is optimal for scoring tragic films and episodes.